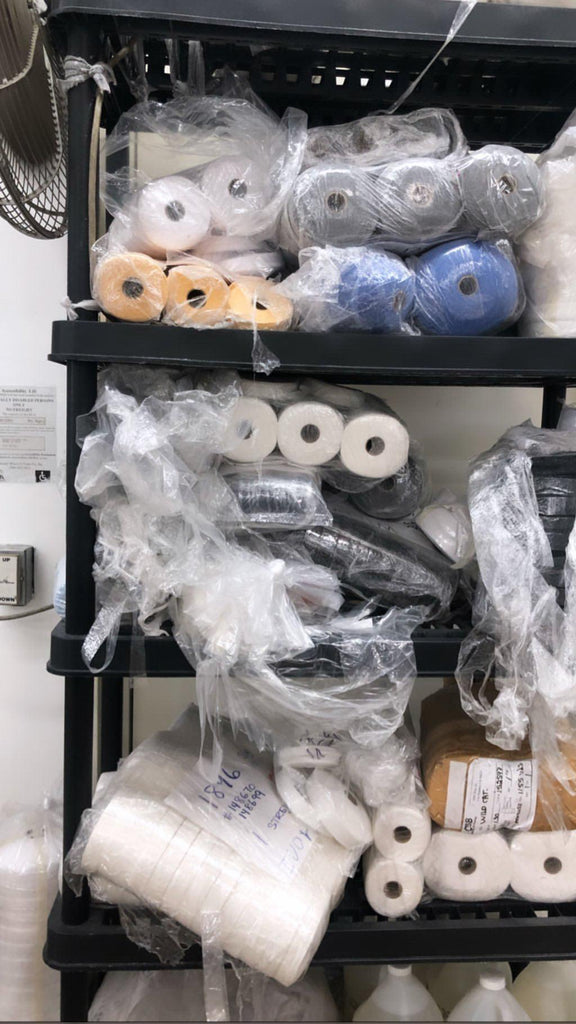 One of my absolute favorite things to talk about is our manufacturing process. The first time I visited LA and stepped behind the scenes, I fell in love with everything about it. When I started my company, I knew I wanted to be involved in the manufacturing process. If I was contributing more "stuff" into the world, I wanted to feel good about that "stuff". My trips now to LA are always a whirlwind; the whole process behind the fashion industry is so gritty, nonstop and not at all glamourous. I love that about it, though. It feels great to be immersed in the energy. I'm going to walk you through a summary of every step behind our tees and sweatshirts, I hope you find it as fascinating as I do. 
STEP ONE: CUT
First things first, the fabric. We have a few fabric suppliers we work with. We use all cotton, no synthetics (they won't dye properly). The fabric is knit in LA, typically from yarn sourced from India. The fabric arrives in rolls and is delivered to the cutting facility.
When we start an order, the first things we need to know are a. What are we making? b. How many are we making? and c. What ratios are the sizes? That last one will make more sense in a little bit. But for an example, let's say we are going to make 300 women's sweatshirts. We typically make 50 XS, 100 SM, 100 MED and 50 LARGE. That's a ratio of 1-2-2-1. This will make more sense when I talk about the next step. Once we have all the information, we send it over to our pattern-maker and she prints out what's called a marking. It's essentially a guide for cutting the fabric pieces, you can see it pictured below: 
Essentially, If you have a ratio of 1-2-2-1 over 300 pieces, you're going to roll out the fabric in 50 layers. The sizes with a ratio of 1 are going to be cut once (50 pieces), sizes with a ratio of 2 will be cut twice (100 pieces). That will give you the proper amount of garments. They literally cut the fabric with a saw, it's pretty cool to see.
STEP TWO: SEW
Once the fabric is cut, it's ready to go to the next spot: the sewing facility. We have our own sewing facility, you'll see it pictured below. The sewing part is pretty self explanatory. There's important details like stitch quality, using all cotton thread, ect. but I won't bore you with the specifics. The tees are sewn and then will be ready for the dyehouse.
STEP THREE: DYE
The dyehouse is probably my favorite part of the whole process. I talk about "vintage washing" and "garment dying" a lot and I'm excited to actually explain what that means in this blog post. Typically, when you buy a shirt, It's sewn from fabric that's already been dyed. That means, when you wash your shirt, you're going to end up with something a little different than how it looked when you brought it home from the store.  We use a process called garment dying, meaning our shirts and sweatshirts are dyed AFTER they are sewn. They're washed in huge washing machines with dye (or pigment) and enzymes to break them in and make them ultra soft. They're then dried before printing making them pre-shrunk.
Once the tees are finished dying, they go through quality control and are picked up by our printer. The printer silkscreens each tee and ships them to our warehouse so we can get them out to you.
We also make blank tees for other brands, for more information about that you can contact us at hello@jeanandjune.com.
Thanks so much for reading! If you have any questions feel free to leave them in the comments. 
XOXO, BLAKE